One of my places while living in San Francisco's Civic Center, overlooking Twin Peaks, Market Street, Van Ness Avenue, and the City Hall. Fun fact: SF City Hall has 24k gold plated dome, thanks to Willie Brown (San Francisco's mayor) and Jeffrey Heller (San Francisco's architect) – cool story!
I love to create. Pretty much anything.
Growing up, I've been exposed to a variety of unrelated fields. From nuclear submarines and creation of largest airplanes in the world, to art, symphony, cooking, and everything in-between. The result is a very generalist, hands-on approach to problem solving – any kind of problem.
I was born in Kiev, Ukraine, where I spent my childhood.
My family worked at a local aviation factory – Antonov Design Bureau. My grandma knew Oleg Antonov personally (he would often give her rides home), and was one of the first female engineers working on all future Antonov aircraft, starting with An-2, and finishing with An-124 at the time of her retirement. She was responsibe for design of all fuel systems. Following in her mother's footsteps, my mom also was an engineer, except she would design everything from airports, to wings of all the newer aircraft (structural elements, etc). My dad has always been a jack of all traits, which is where my love for 'making' comes from; he would build models for wind tunnel testing, marketing purposes, he also partook in things like the design of An-124 cockpit.
When I turned 15, we moved to Salt Lake City, Utah, which up until this day holds a very dear place in my heart.
Shortly after, our family migrated to Toronto, Canada.
After a year long stint in Toronto, we made a more permanent move to Edmonton, Alberta, where I spent majority of my life.
When the time came to "leave the nest" I made a move to Vancouver, British Columbia, which attributes to some of the most colorful memories of my adult life…
Bottom two photos: views from my apt overlooking the beautiful False Creek.
Being European at heart, I always had the urge to move back, so for a little while I moved to Wroclaw, Poland. One of my life's highlights, as the fate had something completely different in-store for me…
…Coming back to celebrate Christmas and New Years at my parent's place in Edmonton, I met my wife. And the rest, as they say, is history.
We started a family of our own, and in 2012 decided to move to San Francisco with our newborn (5-months-old) son.
Ever since then I've been living and breathing bay area [air], and am absolutely invigorated by this place – in every sense of the world. Let's stay in touch!
I'm humble.
I'm open. If you are.
If you give me just 1% of your trust, I'll gain the other 99%.
I'd like to make myself clear from the very beginning: I say nothing but the truth. Always. No matter how bitter it may taste…
I'm a man of principle and high integrity.
The level of sugarcoating and kind words vs straight-to-the-point talk, is entirely up to you. Some companies have Codes of Conduct that disapprove of the latter, so I must ask…
I'm most likely one of the most easy-going people you'll come across… though I'm suspecting my wife might be of a different opinion.
I like people with a good sense of humor/sarcasm.
I prefer simple, straightforward people, vs those that will give me the most backwards answer possible.
I hate fake people more so than I hate fake things…
I'll be a dreamer until the day I die.
I always ask questions before speaking my mind.
I choose not to involve myself with overly serious people. Especially those without a good sense of humor.
I'm a designer.
I design simply.
You are not paying me for my time. You are paying me for my knowledge. (I accept stock as a form of payment, too.)
Less talking, more doing.
I hate wasting people's time. Because I hate when people waste mine.
If I personally believe in something, I can create and sell/market this something to anyone.
I'm a PC user. I can't stand Macs and the whole Mac culture.
I'm fluent at detecting bullsh*t. I'd appreciate if you wouldn't do it to me [or anyone else, for that matter].
I move quickly because I want to achieve more. I seek the same pace within the organization.
Tighter deadlines – overworking doesn't hurt once in a while.
My lifestyle requires, therefore money should not be an issue if my services are needed.
I have my own way of working – freedom is a must.
With the right team, tools and resources, there's nothing I can't achieve.
Self motivated… No micro-management, please – there is no need to check-in with me 10 times a day.
I cannot be a part of a team or organization that's afraid of competition. If you are afraid, if you're worried about "competition", you've already lost.
If you're about the journey, and not the destination, then you should be in travel business, and not in business of design, growth, sales, and marketing.
I can create anything if only you believe I can.
I don't play "games". I'm up-front. You either want to work with me, or you don't. Do not expect a callback in case you're looking for one. And please don't waste my time. I would not be speaking to you in the first place if I wouldn't be interested in doing so.
I have a design agency in Canada, through which I work with my clients who seek my feedback/services.
Do whatever it takes to get the job done.
My strengths are other peoples' weaknesses. (ability to focus on everything, not just one thing)
I'm a rebel.
…You can spend months and sometimes years trying to perfect the details; or you can spend a few days and launch to try things out and adjust as it grows. I'm the latter type. And the first one, too. Once in a blue moon…
If I'm passionate about something, I can learn very quickly.
I want things done my way, unless I agree with the proposed thinking. I back up my thinking with data and I thrive on being proven wrong.
I think that writing about yourself in 3rd person is not only lame, but it's a thing of the past. All the personality is removed, and if all the personality is removed, then what's the point at all?
Don't talk. Do.
I'm short in my replies. Time is precious! I do enjoy a well written long-form email once in a while though.
I love unique things.
I specialize in a generalist approach to problem solving (hah!).
My strengths lay in my ability to distinguish quality from mediocrity – in everything.
I cannot stand cocky people that are too full of themselves – regardless of who you are. And yes, there is a difference between confidence and cockiness, in case you're wondering. Refer to #1.
Can't stand people who use "age/experience" card on you.
Bringing to market is more difficult than improving existing product. #justsaying
Fixed time and scope projects always end in 1 of 3 ways. None of them good.
Do not allow work to burn you out. Money isn't worth it. If working too hard for little money - reevaluate your actions and try new avenues for growth. Scout for ideas.
There are two kinds of people in this world; those who hyperbolize their resumes, and those who tell it how it is.
Need to be surrounded by people who are preforming for the greater good, not their own good. People who have high standards so they could push me. I hear a lot of "it's not my job", or "I'm not getting paid to do this"...
I work best with my own set of tools, not the tools you want me to work with. #justsaying
I can't sit behind a desk for 8 hours every day, especially in an office that I do not feel comfortable in. …This is kind of the reason why I always worked for myself majority of my career, inside of offices that I have personally hand picked and did interior design for. I'm particular like that…
Speaking of pleasant things and places; I love people who love plants (like love-love, as in a sizable collection-kind of love).
I love meeting people whom I can learn new things from!
On a more personal level, I have a hard time connecting with people who have no hobbies.
There are two types of people/businesses: those who hire you to tell you what to do, and those who hire you to tell them what to do. I do not like to associate with the first kind.
I'm more about creating who you are, rather than finding.
Structure.
Organization.
Minimalism.
Always evolving and learning.
Founder, CEO, Head of Design & Marketing
April 2006 – Present
Office #4, downtown Edmonton – my favorite place to 'get work done'.
Threefifty is my design studio and where I spent most of my professional career. Over the years, I've put together the most amazing team of professionals; together we've worked on hundreds of projects for worldwide firms of varying sizes (Century 21, RE/MAX, Prudential Real Estate, EPCOR, Gola USA, Bensimon USA, Oxford Properties Group, TransAsia Lawyers, Cohos Evamy, Lydon Lynch Architects, AECON, University of Alberta, Tiesto, JCPenney, VISA, etc.), and in the process created a few companies of our own.
Inception of this company is what helped to shape my entrepreneurial spirit, along with all of the exciting things that come with it!
---
Experience + Front-end Lead
San Francisco, California / May 2019 – August 2019
While working on this project, Bluewolf moved offices from from across the Trans America Pyramid, to their new Market St. office, which is seen in the photo.
Helped to re-architect a major internal IBM service agency Bluewolf.com from the group up. Brought the usability up to today's standards.
Connected experience to brand, voice, visual, technology, and marketing in general. Optimized via data and testing for higher conversion. Learn more.
---
CMO
September 2018 – February 2019 / Morgan Hill, California
Rick, founder of D2A Audio, and myself during a product photo shoot.
Helped to bring next-generation technological breakthroughs in the world of audio to consumers across the globe. Re-positioned the brand which resulted in greater reach, exposure, and sales.
---
Senior Product Designer, Mobile Analytics
September 2016 – December 2016 / San Francisco, California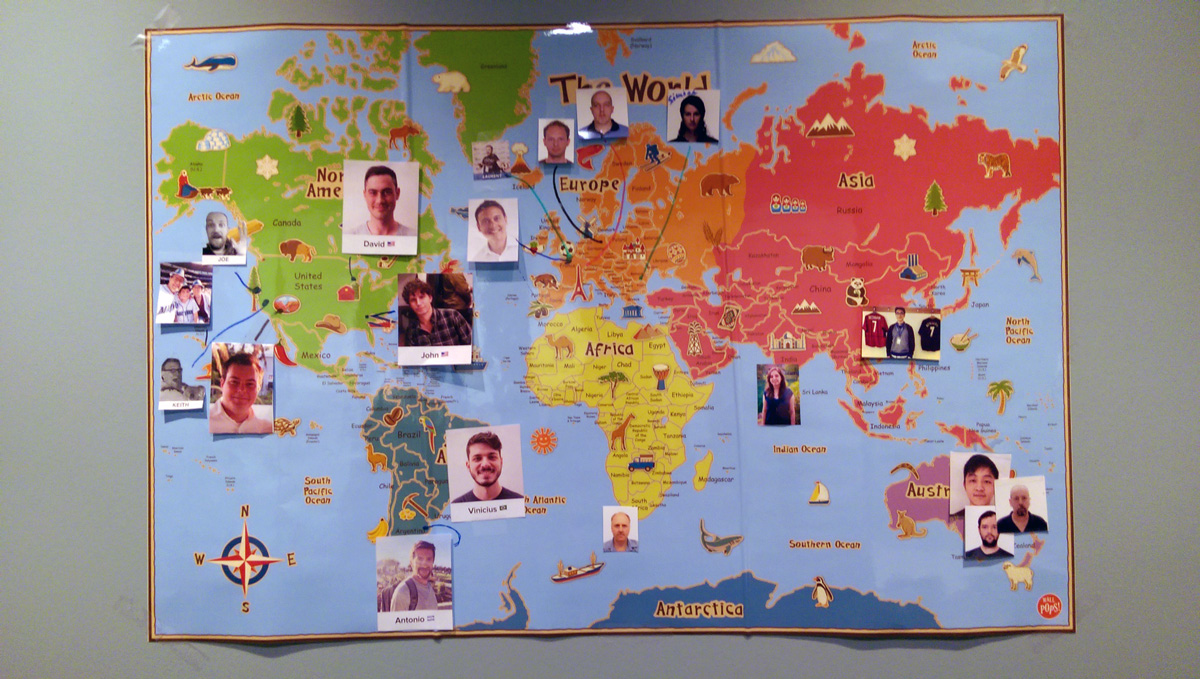 Some of the team members of the Sonoma project.
I love design. I love design that's backed by data even more. I find myself constantly interacting with various analytics products, and over the years I've come to some firm beliefs and expectations, which many of the analytics products lack. This was a fantastic opportunity for me to put some of my thinking to use in a real life situation.
I was asked by team Xamarin to re-imagine how users interact with mobile analytics, and to help with integration into the existing design framework for Microsoft Visual Studio's (Mobile Center) 30M+ user base. Read more about the project.
---
Design, Experience, Growth, Front-end development, Community – Consumer Products
July 2015 – February 2019 / San Francisco, California
Pier 9, San Francisco, California. Shortly after I finished Modular Magnetic. Some of my testing/research work plastered all over the wall in the background.
I've been asked to grow the most used online 3D design and 3D printing app, Tinkercad (tinkercad.com). Ultimately, the app aims to redefine how future generations 'think', giving them a creator's/designer's view of the world. I've applied my generalist approach to growing and bettering the app, and most importantly its community, making it more approachable to consumers, more user-friendly, and more engaging.
Reinvented the brand and redesigned the website. This resulted in 20% increase in user engagement (85%), based on a series of A/B and multivariate experiments which were also setup and carried out by me.
User base went up from 50k to over 13 million in three years (that's a 25,900% increase, by the way).
Increased website's conversion from 31% to over 64.61% in a matter of weeks – 108.42% increases in conversion don't happen often…
Established strategies and workflows for growth. Campaigns tied to these strategies were responsible for hundreds of thousands of new users.
Proposed new app functionality and improved existing app tools to better the user experience.
Re-designed the entire COPPA (under 13) registration/management workflow. Introduction of this workflow was one of the major driving growth factors as it affected all the schools.
Advised on the selection of back and front-end frameworks. Single-handedly Bootstrapped tinkercad.com and worked with engineers to ensure proper integration into the system.
Designed and future-proofed community functionality to increase engagement and click-through rates.
Assisted with creation of countless promo resources (online/print/physical).
All design decisions made were based on data, which I interpreted and acted upon, too.
---
Senior Experience Designer & Growth Hacker – Consumer Portfolio
March 2013 – July 2015 / San Francisco, California
Normally you wouldn't associate Autodesk Inc. with term "consumer", which is the reason why the ACG (Autodesk Consumer Group) initiative heavily focused on bridging the gap between prosumers and consumers. Working alongside some of the brightest minds at [the infamous] Pier 9, I've been helping Autodesk spearhead the 3D printing & MAKER movement. And even though I was brought on board for a specific role (on a specific project), I was able to contribute to other projects, while interacting with several departments at any given moment.
Developed more consumer-oriented voice and brand.
Re-designed and recoded most of the 123D community.
Evangelized and assisted in a major multi-property move to Drupal.
Made web properties more available/accessible by building and optimizing for mobile.
Coded hundreds of templates and designed/future-proofed varying complexity workflows.
Collected and utilized data to improve marketing of products, services and partner pages.
Was instrumental in creation and management of multiple Autodesk communities.
Was appointed as the go-to designer for partners like: MakerBot, Dremel, Cricut, etc.
Took initiative to design/create showcase projects to drive traffic and build recognition.
Suggested ways to increase sales and improve partner relations; came up with sales collateral.
Re-imagined how ideas are presented internally; this inspired more people and resulted in better adoption of uncommon thinking...
Some of the projects I was involved in included: 123D Design, 123D Catch, Project Ignite, Tinkercad, Spark, Ember 3D printer, Homestyler, Seek, 123D Circuits, 123D Make, Meshmixer, 123D Sculpt +, Tinkerplay.
---
Product Design Lead
August 2013 – November 2013 / Menlo Park, California
Joined the team as the first UX/UI/Visual/Product designer, where I've outlined the foundation for design and experience of several key products, along with the overall brand and voice. Some of the thinking and design still live on to this day.
---
Senior Product Designer
May 2013 – August 2013 / San Francisco, California
I was brought in as a lead concept designer on a 'tight deadline' project which involved usability and visual improvements of moviefone.com - AOL's flagship movie resource website. Moviefone.com is one of the oldest online movie brands in America.
---
Design Lead
May 2005 - August 2006 / Edmonton, Alberta
RPM was my first experience working with a startup. Their product offerings were focused on real estate industry, and enabled Realtors (and entire Realties) to set up "online offices", which could in turn be used to market real estate to interested parties.
Due to the infancy of the company, I had to "wear many hats", while keeping up with the fast-paced work environment. This is also where my love for real estate was born.
---
TV News/Sports Editor
October 2003 - February 2004 / Edmonton, Alberta
After being noticed for my proficiency and passion towards video (filming, editing, etc.) during my college years, I was presented with a unique opportunity to work for A-Channel – the top TV station in the city. Once there, I've collaborated with directors, producers, anchors, reporters and cameramen, to create many captivating top news and sports stories (6 o'clock news + late night sports overview).
The quality and style of my editing quickly caught on around the station, and eventually I was appointed as a lead editor to concept a new TV segment for newscasts. The first installment was a great success for the station, and has resulted in production of subsequent episodes.
---
Design Lead
August 2003 - November 2004 / Edmonton, Alberta
Media-Masters Creative Communications Inc. was my first experience working in a digital shop environment, straight out of school, and an inspiration for the future to start my own studio. The company was small enough for me to be able to freely move between roles on daily basis: from designer, to marketer, to account manager, and so on...
This position not only grew me as a designer, it also taught me many important lessons on client relations and on how to be a good manager.
---
Education
Northern Alberta Institute of Technology
2003 - 2004 – graduated with honors (and a diploma).
Edmonton, Alberta
Microsoft Office apps
Photoshop
Illustrator
InDesign
Dreamweaver
Lightroom
LightWave
After Effects
123D apps
Tinkercad
FL Studio
Google Analytics
Mixpanel
Graphic Design
Creative/Art Direction
Information Architecture
Photography
SEO
E-commerce
Usability/Experience
Advertising
Front-end Development
Marketing (Traditional, Online, Social, Email, Niche/Geo, Content, Mobile, Neuro, Affiliate, B2B, B2C, Direct)
Research/Strategy
Identity/Branding
Illustration
Entrepreneurship
Management
Leadership
Growth
Customer Service
Localization
Technical Translation
3D Design/Fabrication
General design and creation of things
Aviation/Aeronautics
Autos
Boats
Space
Architecture
Scale models
RC/electronics
Photography
Music (production/DJ'ing)
Biking (street/downhill)
Nature & Outdoors
Plant collecting
Learning
Parenting
PC gaming
3D printing/prototyping
Drawing
Model-making
Woodworking
Laser cutting
Crafting
Fashion
Psychology
In case you're the "review" type, here are a few comments I ve compiled over the years from some of the clients/co-workers who are now my friends…
"Yuriy Sklyar fit so many ideas into one lunch it left my head spinning."

Founder vs. Goliath
"Photography sells." (Interview mit Tom und Yura, shoeguru.ca)

Founder, speaker konversionsKRAFT
"Best visual designer we have!"

Director, Autodesk Spark Platform and Products
"Yuriy is a stellar UX pro with a strategic mindset. His work embodies beautiful aesthetics that drive key conversion objectives. Not only has he pioneered A/B testing, he has acted as a mentor and champion of the testing program once ACG obtained enterprise access to a standardized tool. He goes beyond the call of duty to troubleshoot problems, install marketing systems, and ideate on ways to optimize experiences as well as workflows for big results - then does a great job of telling the business story after. He's a pleasure to work with, and recognition for his contributions is highly deserved."

Prod. Mktg. Mgr., RCE-Autodesk Consumer Products
"Each time I posed a creative idea, Yuriy came back with an excellent result. When I asked for technical illustrations for a new product manual, he created one of most straightforward and well-drawn manuals in the solid-state lighting industry."

Head of Marketing, illumivision inc.
"Thank you for always going above and beyond with your technical support."

Operations Manager, Gola USA
"Yuriy is a total rockstar. He has made HUGE strides to help us develop the Project Ignite site and really gone above and beyond to deliver on team objectives. He's a true asset to Autodesk and RCE. He always goes the extra mile and does it with a smile!"

Field Marketing Manager, RCE-Autodesk Consumer Products
"Yura does some excellent work and everyone that I have referred seems to agree."

President, Aqomi, ShoeGuru, T&Y Company
"Yuriy has gone over and above the call of duty in working on 123dapp.com, Tinkercad and Ignite. He has actively sought out areas where his talent and expertise can improve the site and its performance. An incomplete list of the areas where he has led to major improvement: app landing pages, content formatting, SEO, A/B testing."

Prod./Prod. Line Mgr., RCE-Autodesk Consumer Products
"Yuriy is a rockstar designer and a pleasure to work with."

Art Director, RCE-Autodesk Brand Creative
"Our experience with Yura and his team as customers since 2004 has been nothing short of incredible."

President, Edulis Imports
"Yuriy is the easiest product team member I have worked with. When we have minor suggestions for 123Dapp.com, he drops everything and does it right then (if it makes sense). He always has a good attitude and is doing more than what his job entails. I can't think of a more deserving person for the job."

Marketing Operations Analyst, RCE-Autodesk Consumer Products
"...[Website you've created] has been the major vehicle for the success of my book and the first thing I get asked about in interviews across the globe!"

Author, Questory of Root Karbunkulus
"Yuriy has gone above-and-beyond in the past year. He initiated projects that were "outside his job description" and that have significantly contributed to business. More importantly, his positive, up-for-anything attitude has had a hugely important and reassuring effect on the teams he works with, particularly in the midst of high-stress situations and pressing deadlines. Without complaint, he has worked evenings and weekends, all the while managing to make contributions on a large number of fronts. Personally, I have never worked with a designer who is more open to hearing suggestions"

UX Architect, RCE-Autodesk Consumer Products